There's no doubt
Youtube
is definitely the biggest video community.Because of that, there are certain company/people taking advantage by creating a software or extension for Youtube. These extensions or software actually very good since it can help you to ease your work.Some of us would like to watch the Youtube video offline, some of us want to modify the video and many more.
Here's I will tell you "
Top Youtube Utilities That You Should Know
" .
#1 Youtube Video Accelerator
SpeedBit Video Accelerator is another good software which can accelerate your you tube streaming. It works on the same principle of Download Accelerator. It opens multiple channel and grabs the video and streams faster.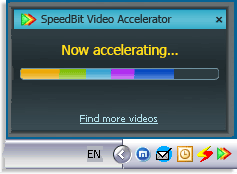 #2 Firefox Add-on - Video Downloader
Media Pirate
has developed an firefox add on called as the video Downloader which allows those videos embedded in flash player to download right to your hard disk.Media Pirate helps you to download videos from many sites like Youtube, ifilm.com,metacafe.com, zippyvideos.com,video.google.com and many more that I cannot listed here..
Download Video Downloader add-on here..
#3 Online Youtube Remixer

Youtube Remixer is actually an new online service that will allow Youtube users to edit, change and spice up their Youtube videos from within Youtube itself. The great new web service is powered by the Adobe Premiere Express Technology and supports insertion of graphics, text and audio as well as overlays and in-video transitions.
Visit
Youtube Remixer
..
#4 Youtube Video Player - FLV Player
Usually, the online videos that we downloaded from the Net are in flash video format which is FLV. So, you might encounter error when you play the .flv video with player like Media player. It is best for you to download the FLV player. FLV player is using simple GUI and easy to control the video. alternatively, you can play .flv video with Media Player Classic or VLC player but you have to install the codec first.
Download FLV Player
...
#5 Online Youtube Converter
Right now, I can see that a lot of website offering FREE online service that allos you to convert Youtube videos from .flv format to another like .3gp, .mp3, .avi and so on.Here's a few site that provide that kind of service :-
a)
ConvertTube.Com
b)
ConvertDirect.Com
c)
http://vixy.net/
d)
ConvertYouTube.Com
Get familiar with this tools and have fun !!!