Griffin's MyPhones are designed for kids' heads and health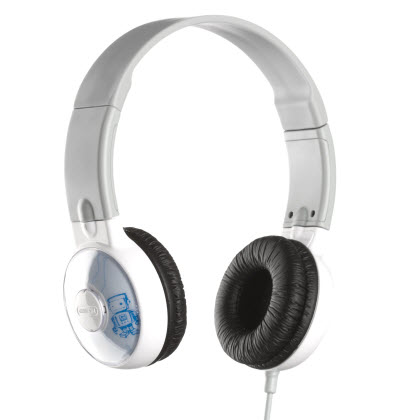 Kids today have become used to wearing headphones so that they can listen to everything from music and movies on a portable media player to the zaps and pows of a video or computer game. But kids usually wear headphones that aren't made for their smaller heads and more sensitive ears.
Griffin Technology's new
MyPhones
($39.99, available in early October) are specifically designed, over-the-ear headphones for kids. They include circuitry that limits volume to 85 decibels, a level that regulatory agencies and pediatric audiologists consider
safe for kids
. MyPhones also feature soft, rubber ear cushions for extra comfort and an adjustable headband so that kids won't grow out of them too soon. They plug in via a heavy-duty, 50-inch cable designed to take the sort of abuse that kids can dish out.
MyPhones can also be customized. The ear caps have interchangeable decorative inserts, and each pair of MyPhones comes with three different designs and blank templates so kids can make their own. More templates can be downloaded from the
MyPhones Web site
, and kids can upload their own designs or download those of others. The MyPhones packaging also doubles as a see-through carrying case, and it can also be customized with kid-designed inserts.
MyPhones lets kids enjoy their favorite electronic activity with great sound quality and gives mom and dad peace of mind about their kids' hearing -- as well as some peace and quiet around the house or in the car.