Windows PC Scout points you in the right direction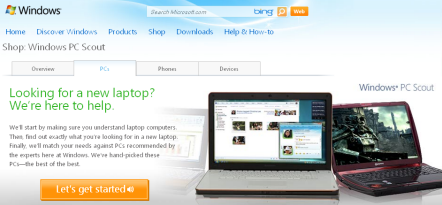 With all the models, features and software options to choose from, shopping for a new laptop can be a challenging and time-consuming process. It helps to have the assistance of a computer-savvy friend. Or you can use
Windows PC Scout
.
The interactive online service starts with a "Laptop 101" that's a crash course for the computer novice in everything you need to know -- but maybe are afraid or don't even know to ask. Next, PC Scout will ask you a series of questions about how you plan to use your new laptop so you can be sure to get one that perfectly suits your needs.
Or if you already know what you're looking for in a laptop -- say, for watching movies, power gaming or working from anywhere -- you can skip the schooling and go straight to the selection process.
Either way, before you are able to pick a laptop, the potential field is carefully screened by experts at Windows to ensure that only the top performers make the cut. Then you're shown a selection of laptops, which you can purchase from specially selected Windows retailers, or you can choose to further tweak the recommended machines or see more models.
Think of it as having a group of geek friends you can turn to for advice on getting the best laptop for your needs. Except they're available 24/7 -- and won't make you feel like a newb.