Free App Lets You Track Your Home's Energy Costs and Savings
You see the bills coming in every month for electricity, gas and other forms of energy required to make your home comfortable and enjoyable -- and the money going out to pay for it all. But wouldn't it be great if you could better track your energy usage and find ways to save some of the money you spend on it?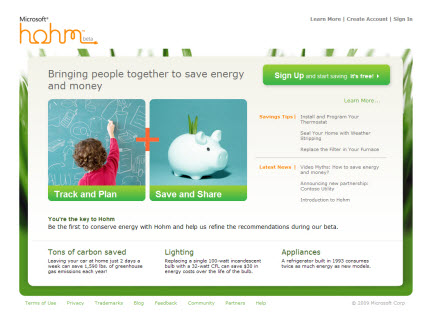 That's the idea behind
Microsoft Hohm
, which recently launched in a beta version. It's a free Web-based application that helps you get the big picture on your home's overall energy consumption, while at the same time breaking it down into the small, incremental elements that suck up power in your home so that the task of managing energy usage doesn't seem so overwhelming. Best of all, Hohm gives you easy, step-by-step recommendations on how to begin immediately saving money on your utility bills.
The application does this by using advanced analytics licensed from the
Lawrence Berkeley National Laboratory
and the
U.S. Department of Energy
to give homeowners recommendations specifically tailored to their situation. It takes into account factors ranging from the number, size and type of a home's windows to the type of appliances and heating and cooling systems and how they're used. It even gets down to details such as whether your computer goes into "sleep" mode when not being used.
All that's required to sign up is a
Windows Live ID
and a zip code. Then you simply answer questions about your home -- the number of occupants, the appliances and systems, size and type of house, etc. -- in a easy-use-format that takes about 15 to 20 minutes.
Although the survey consist of about 200 questions, you can choose to skip ones you may not know the answers to and Hohm will base its recommendations on local and national averages. Of course, the more accurate your answers are, the more detailed and relevant Hohm's energy-saving recommendations will be.
Hohm has also partnered with major utilities so that, in the near future, customers will be able to have their energy-usage data automatically uploaded to the application if they choose. And there's a community section where Hohm users can share energy-saving tips.
So how much can Hohm save you on energy costs? When I loaded the data on my drafty, poorly insulated home built in 1915, the Hohm Energy Report (below) calculated that I could potentially save around $2,500 on the approximate $3,500 I spend on energy every year(!). It included recommendation for quick-fixes such as lowering the temperature of my water heater (for a $58 annual savings) to big-ticket solutions such as replacing my gas furnace with a more energy-efficient one ($1,001 annual savings).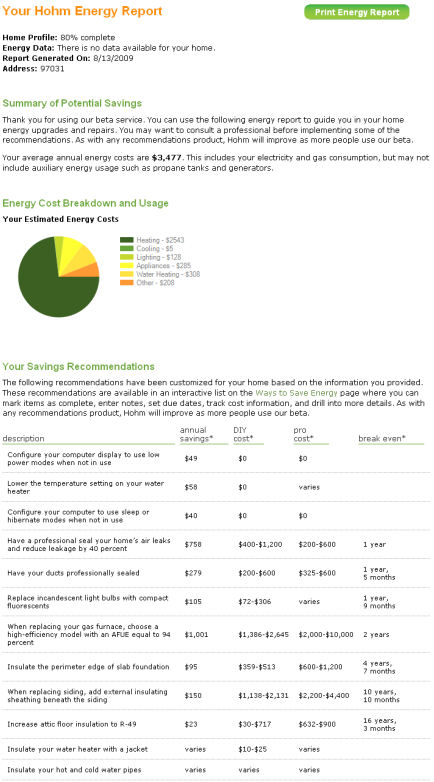 In addition to the potential annual savings for each item in an audit, the Hohm Energy Report also gives detailed descriptions on the impact of each one, the cost to correct it from both a professional and do-it-yourself basis, the break-even cost and the annual carbon-emissions savings. And if you do go the DIY route, which makes sense for simple things like insulating your water heater or hot-water pipes, the Hohm Energy Report provides step-by-step instructions, a list of the tools needed and the degree of difficulty.
As the old saying goes, knowledge is power. And Microsoft Hohm now gives homeowners the knowledge to better manage their power consumption.
And see where money spent on utilities goes every month.
-- posted by Doug Newcomb, special to MSN Tech & Gadgets