Celeb Sightings and Electronic Amenities Aplenty at The James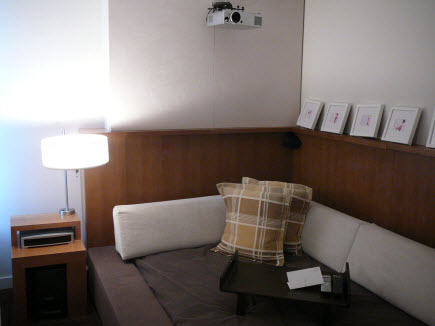 One of the cool things about attending a festival like Lollapalooza is the concentration of rock stars per square mile. You never know who you'll run into or where, but the best hotels are always good for celebrity sightings.
T&G's home base at
Lollapalooza '09
was
The James Chicago
hotel in the heart of the city, which was also a roost for rockers Tool and
Yeah, Yeah, Yeahs
. We spotted the latter band's charismatic front woman Karen O in the lobby on one occasion -- the
striking brunette with the signature bob
is hard to miss.
The hip hotel is a favorite of musicians not only for its cool elegance and access to the best of the city, but also because it boasts tech amenities such as multiple flat-screen TVs, iPod/MP3 docks and alarm clocks that project the time on the ceiling so that you know it's, say, noon and almost time to wake up for a sound check just by opening your eyes and looking up. Rooms also include ample and easily accessible electrical outlets, since you never know when you'll want to plug in and jam with the band.
But unique to The James suites is a "media room," a separate space with an LCD projector that displays movies on the white wall, a DVD player (and a stash of 40 to 50 of the latest releases available from the concierge), a Bose surround system and a comfy couchlike bed, with plenty of pillows for kicking back and watching a flick in comfort and style.
Just the thing for unwinding after a hard day's night rocking out.