Philadelphia based Parat Solutions have revealed their latest iPod Dock, which can support up to twenty devices simultaneously, five more than their previous effort.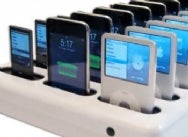 The 'Parasync Charging & Synchronization Dock' can impressively charge a maximum of twenty devices and sync them all via just one USB connector cable, with no additional software.
The Parasync manufacturer did however point out that PC users may "experience fluctuations in performance" due to the limits within PC USB interfaces.
A supplied video from Parasync demonstrates the simplicity of the superabundant dock:
The Apple certified device is currently only available from Parat Solutions directly, and the website does not detail a price point, instead stating to contact the company for a "quotation".
Follow GeekTech and Chris Brandrick on Twitter.