Maybe you can't afford a Ferrari, but if you're addicted to
Gran Turismo
or PC racing games, at least you can own a Ferrari-licensed gamepad.
Four models from Thrustmaster
-- the wireless 430 Scuderia and F60 (both $49.99), the wired F430 ($39.99, pictured above) and dual analog F60 ($24.99) -- will all hit showrooms in October.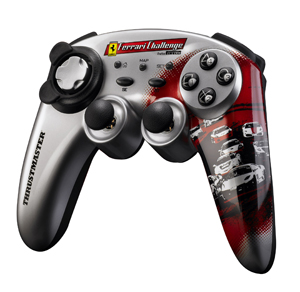 The first three feature "grips that are reminiscent of Ferrari noses" and are cloaked in the supercars' colors. And to make them feel as exclusive as a real Ferrari, these three limited-edition gamepads all come affixed with a numbered plate.
The two wireless models feature 2.4 GHz technology, while all have an optical wheel with automatic centering as well as dual progressive triggers. All models are also fully programmable, have internal memories and are PS3 and computer-game compatible.
To keep a driver from becoming fatigued throughout a long day of simulated racing, the Ferrari gamepads also feature a "peach skin" texture on the lower grip's lining, which Thrustmaster says provides comfort as well as precision and reliability.
That's something even legendary Ferrari F1 driver
Michael Schumacher's
race car didn't have.