Joybee GP1 Shows Digital Movies and Photos Anywhere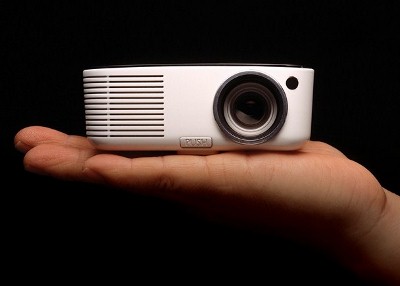 Popcorn, anyone?
For some reason, the experience of watching projected images on a wall makes me crave a tub of popped, buttery kernels. The feeling was no different as I was testing the extremely cool BenQ Joybee GP1 Mini LED Projector.
Almost every digital media product on the market touts its ability to be connected with or plugged into a TV. Which means you could theoretically hook up your camera or laptop to your HDTV and enjoy your media on a big screen. But who really does that? And what if no TV is available, or you don't have the right cable to make the magic happen?
Enter the Joybee GP1, from the good people at BenQ. Billing itself as the "world's first LED pocket projector with an integrated USB drive," the Joybee is a compact and stylish little machine that makes it easy to project your digital media with or without a PC. It weighs in at just 1.4 pounds and is compatible with just about any device you can think of. Sure, you can hook up a laptop or game system to the project (which is fun). But what gets even more interesting is that if you pack your media onto a portable storage device like a USB thumb drive, you can plug that drive directly into the Joybee GP1 and project your media on any wall. You can't get a "bigger" screen experience with more portability than that.
At our house, the Joybee GP1 was a big hit. My 4-year-old daughter loved the idea that we could watch "computer movies" on the wall -- an idea that was completely foreign to her, having never really seen a projector before (yes, that made me feel old). For my wife and me, the GP1 offered a welcome alternative to the "hook the laptop up to the TV" scenario, and it was a lot more fun. The LED light source is bright and powerful (no "lamp" to burn out), and we were able to project a very sharp, 12-foot-wide image on an interior wall of our house.
The Joybee GP1 is a great option for traveling professionals or teachers who need an easy way to present slide shows to an audience, for organizations or families who want to share photos and videos easily, and for just about anyone else who dreads trying to figure out how to plug their media into whatever TV may be available at their venue. Just find a wall, and you're good to go.
The Joybee GP1 is available now for $499. Learn more at the BenQ Web site.
And pass the popcorn, please.