Just a day after the news broke that Gillian Anderson had split with her long-term partner, comes a report that she's dating her old X-Files co-star David Duchovny!
Gossip website Celebrity Dirty Laundry is claiming that they have been quietly dating for some time and that she has already moved in with David in Los Angeles. Knowing that Canadian-born Gillian has lived in London for years, we find that a little hard to believe, but this is Celebland, stranger things have happened!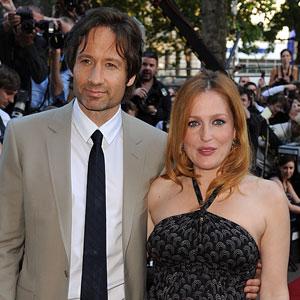 Mulder and Scully, sorry, David and Gillian, have known each other for nearly 20 years and the actress did add fuel to the fire recently when asked by The Sunday Times if she had a partner. She looked uncomfortable when asked and stuttered her way through an answer. "Um…yes…umm…umm," Gillian said after a long pause. "Say yes," she scolded herself, befor ending with, "Why do you ask me?"
David's romantic status is just as mysterious – he and his wife, actress Téa Leoni, split in 2008 but reconciled after he'd received treatment for sex addiction. They split for good last year.