Portable 7-inch Digital Set that's Perfect for the College Set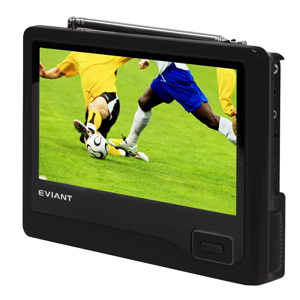 It's a time-honored tradition: Kids go off to college and parents hand them a hand-me-down TV for use in a dorm room or apartment. But with the
switch to digital TV
earlier this year, that old analog set may only be good as a video monitor -- or a door stop.
The
Eviant T7
($169.99) offers an affordable TV solution for starving students and cost-conscious parents. The 7-inch portable receives free over-the-air digital programming without a bulky converter box. Its compact size (7.3 x 1.1 x 5.7 inches) and light weight (1.4 pounds) also makes it perfect for dorms and small apartments -- or any space-tight spot such as a kitchen or garage or even on a patio or at a sporting event.
The T7 has a 16:9 aspect ratio and 480 x 234 resolution, and features a built-in ATSC/NTSC tuner, rechargeable Lithium-Ion battery and stereo speakers. It's available in glossy white, red or black to fit any dorm's decor and comes with an AC adapter, A/V cable, remote control, an external antenna for use in rural areas (Hello
Southern Vermont College!
). And it has a carrying pouch to protect it at parties ... or, uh, study groups.
-- posted by Doug Newcomb, special to MSN Tech & Gadgets