Now that the NFL Preseason is Here, It's Time to Get in the Game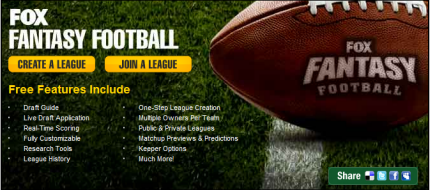 The NFL preseason kicked off this past weekend, and if you're a fan and haven't filled your free
FOX Fantasy Football
roster on
MSN
, now's the time to hit the virtual field.
Features include a
Draft Guide
presented by Hooters, with the restaurant chain hosting a
Fantasy Draft Weekend
August 21-23 and offering a free Draft Guide Magazine, Draft Board, Player Stickers, Work Sheet and $500 worth of discounts throughout the NFL season to entice FOX Fantasy Footballers to huddle at its locations.
If you're more the armchair coach and want to do everything from the comfort of your computer, online you'll find a Live Draft Application, Real Time Scoring, One-Step League Creation and League History. To help you put together a winning team for the 2009 season, you'll also have access to Expert Analysis, Research Tools and Matchup Previews and Predictions, as well as the capability for Multiple Owners Per Team and Public and Private Leagues.
So whether you're a of FOX Fantasy Football rookie or a grizzled virtual gridiron veteran, you can't win if you don't get in the game.
-- posted by Doug Newcomb, special to MSN Tech & Gadgets