Move Files Between Computers without Hassle
Moving massive amounts of data from one computer to another can be a tedious and slow process if you first have to back it up to an external hard drive or other storage media. But not if you use
Hawking Technologies' Easy-Link Data Sharing Hub
($29).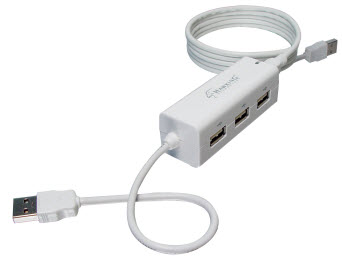 It connects to the USB port of two computers and doesn't require installation of special software or drivers. Once plugged into a pair of computers, the Easy-Link reads files simultaneously and shows them side by side onscreen. Then it's simply a matter of dragging and dropping files from one computer to the other to transfer data.
The Easy-Link also has a three in-line USB ports to hook up a camera, portable media player or any USB-supported device to download pictures, music files or other data. And with download speeds up to 480 Mbps, it can be used in place of USB "thumb" drives and other flash-media devices to quickly and easily share files with friends.
But just make sure you don't also share a virus.