Let's set the scene. On a trip to the market you catch sight of a pumpkin display. The impressive gourd-like vegetables look so appetising as their burnt orange skins shine in the sun. Overcome by a sudden culinary rush to the head, you single out the most attractive specimen, pay your money, haul it home and place it on the kitchen floor. (You would put it on the table, but the thing is so big, you fear you won't be able to afford the osteopath's bill or, indeed, a carpenter to fix the table.)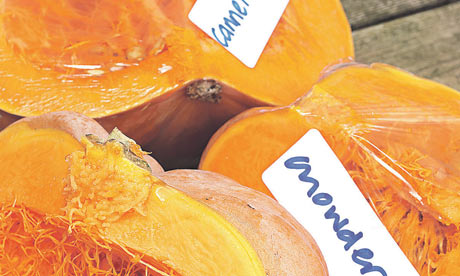 This is my problem with pumpkins – generally they are enormous; and unless you are expecting a coachload of pumpkin-eaters to turn up, what are you going to do with it all? I bet the vast majority of pumpkins are only partially eaten, while the rest decay and end up on the compost heap or, worse, in the bin.
Well, fear not, because I have spent hours carefully planning a three-meal attack. For these recipes, I have assumed that you have bought a pumpkin weighing at least 3kg.
While the Americans are the most prolific growers of pumpkins, it's the Italians, I think, who have made the most of them in the kitchen; so stuffed cannelloni is the perfect way to begin your pumpkin fest. The second recipe is also Italian – risotto – while the third serving is more exotic, a spicy chowder.
Our first job is to get that pumpkin prepped. Take a large knife and cut it into three wedges, as evenly sized as you can. Wrap two of the wedges in clingfilm (write "risotto" on one and "chowder" on the other) and put them in the fridge . They will happily keep for a week or more. The third wedge is for your cannelloni.
Pumpkin cannelloni with sage and ricotta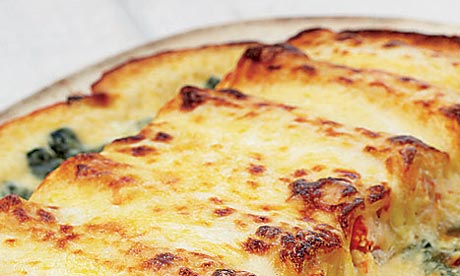 You will need a baking dish large enough to hold eight cannelloni. Bear in mind that the dish needs to be deep enough to hold not only the cannelloni but also some spinach under the pasta and a thick sauce on top. I had intended to give you a recipe to make fresh pasta for this dish. However, Allegra told me she always uses shop-bought fresh egg lasagne sheets for ease. I tried it and have to admit she's right to do so.
Serves four as a lunch with salad. Preparation time: 10 minutes. Cooking time: 30 minutes
1kg wedge of pumpkin
Olive oil
250g ricotta cheese
10 sage leaves, chopped finely
Salt and pepper
6–8 fresh lasagne sheets
20 button mushrooms, sliced (about 150g)
200g raw spinach, washed
500ml milk
40g softened butter and 40g flour, mixed to a paste
175g strong cheddar cheese
Preheat your oven to 200C/180C fan/gas mark 6. Cut your wedge of pumpkin in two to give you a couple of thinner wedges. The skin can be left on. Heat a glug of olive oil in a frying pan and fry the outsides of each wedge until they are nicely browned. Put the coloured wedges of pumpkin on a baking tray and pop them in the oven to cook – this will take about half an hour, depending on how thick the wedges are. The best way to check them is to push a knife into the flesh and if it goes in with little resistance, then your pumpkin is done. At this point remove them from the oven and allow them to cool, then remove the skin and chop the flesh into manageable chunks and put them into a large bowl.
Using a fork, very roughly mash the flesh, keeping a little texture. Add the ricotta cheese and the chopped sage and mix together. Taste for seasoning – you will probably need a little salt and a good twist of black pepper. This is the filling for your cannelloni and it can be used straight away, or you could store it in the fridge for a couple of days.
Making the cannelloni is very simple. Lay a sheet of fresh lasagne on a work surface, place a sausage-shaped amount of pumpkin filling down the short edge and then simply roll them up. Make sure the seal is on the bottom. Put these rolled cannelloni in the fridge until you need them.
Heat a little olive oil in a saucepan and fry the mushrooms. Turn the heat right down and then throw in the spinach. If you have just washed your spinach, there will be enough water still on the leaves to cook it through, so don't add any more. The spinach will quickly wilt, at which point tip both the spinach and the mushrooms into your baking dish, discarding any liquid, and spread it out across the base. Allow it to cool slightly and then place your cannelloni on top. They should be tightly packed, with no spinach showing. All that's required now is a decent cheese sauce.
Bring the milk to a simmer and whisk in half the flour and butter paste. Keep whisking gently as it simmers – you are aiming for a fairly thick sauce, so add a little more of the paste if necessary. Now turn off the heat and mix in the cheddar cheese. Pour this sauce over the cannelloni and bake in the oven for 20 minutes at 180C/160C fan/gas mark 4 until piping hot and golden brown.
Pumpkin risotto with roasted walnuts, red chicory and gorgonzola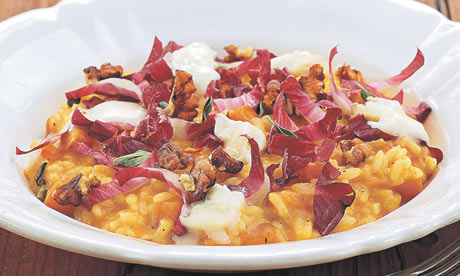 While I do occasionally put a risotto on the restaurant menu, it's at home that most of my risotto production takes place. This dish is perfect midweek fare in my opinion – it's not expensive, yet it's nutritious and filling and there is no need for any side dishes.
Serves four. Preparation time: 15 minutes. Cooking time: 40 minutes
1kg wedge of pumpkin
Olive oil
½ pack unsalted butter
2 medium onions, peeled and finely chopped
A sprig of thyme
3 cloves garlic, peeled and finely chopped
4 handfuls risotto rice (about 50–60g per person)
1 tbsp broken walnuts
Up to 1 litre hot chicken stock (it's OK to use a cube)
A little fresh marjoram, leaves picked
Salt and pepper
1 tbsp grated parmesan
1 head red chicory, shredded finely
200g gorgonzola cheese, broken into bite-size pieces
Remove the skin from the pumpkin and then cut the wedge in half. Dice both halves into rough 2cm cubes. Now put one half into a pan and cover with water. Simmer until tender, then drain off the water and puree the flesh with a liquidiser or a stick blender. This puree will be stirred into your risotto towards the end of the cooking, so put it in the fridge until required.
The second lot of dice is also going to end up in the risotto. However, it is going to be pan-fried so that the outside caramelises. This will give the dish a more complex flavour and is well worth the effort. Heat a frying pan and add a little olive oil. When nice and hot, add a little pumpkin and fry it until it has softened slightly and the flesh has a roasted appearance. This frying is best done in smaller batches and the pumpkin set aside to cool until needed.
Start the risotto by putting two-thirds of the butter into a heavy-based saucepan to melt. Now add the onions, thyme and garlic. Stir them into the butter and allow them to soften, but prevent them from colouring by putting a lid on the pan and turning the heat to its lowest setting. Add the rice and let it cook for a couple of minutes in the butter with the onions, thyme and garlic.
Meanwhile, heat the oven to 200C/180C fan/gas mark 6 and scatter the walnuts on to a baking tray. Roast the nuts for about six minutes, in which time the flavour will develop and they will become crunchier.
Add the stock to the rice a ladleful at a time and keep stirring as you do – this will cause the rice to release its starch, giving a creamy consistency. The risotto will take about 30 minutes to cook in the gently simmering stock.
After about 20 minutes, add your pre-made pumpkin puree, your marjoram leaves and your roasted diced pumpkin. Season, add a little more stock and let it cook on for another 5–10 minutes.
Test a little rice – there should be a very slight "bite" to it. At this point your risotto needs to be served, so remove the pan from the heat and add the remaining butter. While the butter melts, sprinkle in the parmesan cheese. These last two ingredients should give your risotto a wonderfully creamy texture. Spoon it into bowls and scatter over the broken roasted walnuts, the shredded chicory and the gorgonzola.
Spicy pumpkin chowder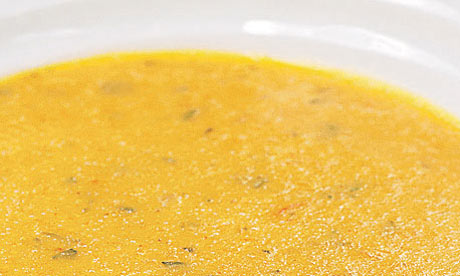 Pumpkin makes a fine soup but it needs to be matched with strong flavours, so the chilli and coriander work beautifully here.
Serves six. Preparation time: 10 minutes. Cooking time: 40 minutes

1kg wedge of pumpkin
50ml olive oil
1 tsp ground cumin
1 tsp ground coriander
4 red chillies, chopped
2 cloves garlic, peeled and chopped
2 x 400g tins coconut milk
1 litre vegetable stock
80g coriander, chopped
Cut the skin from the pumpkin and chop the flesh into large rough dice (about 2½cm cubes). Heat a large pot on the stove and add the olive oil. When hot, chuck in the pumpkin and allow it to colour slightly. This can be done in several batches if need be.
Once all the pumpkin is coloured, add the spices, chilli and garlic and then pour in the coconut milk and the vegetable stock. Simmer for about 20–30 minutes, until the pumpkin is soft.
Finally add the coriander and then remove from the heat. Using a stick blender or food processor, blend the soup. I like to leave a little texture, so don't over-blend. The soup will freeze well or serve it straight away.
•Extracted from Economy Gastronomy: Eat Better And Spend Less by Allegra McEvedy and Paul Merrett, published by Michael Joseph on 17 August at £20. To order a copy for £17.99 with free UK p&p go to guardian.co.uk/bookshop or call 0330 333 6846. The television series Economy Gastronomy is on BBC2 on Wednesdays at 8pm.