Personal Credit Card Reader Lets Only You Do the Swiping
Ever worry where your credit card info ends up after you type it in while shopping online? Even though most Web sites use some form of encryption to protect your account information, there's always the chance that some low life will swipe it using spyware or a virus or even from your computer's memory.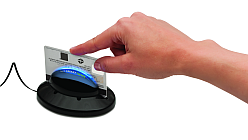 But you can stay one step ahead of hackers and make sure you're the only one doing the swiping with the
SmartSwipe credit card reader ($99.95)
. It plugs into a USB port and encrypts your credit card data before it even reaches your computer. And as threats change, software for the SmartSwipe can be updated.
SmartSwipe is
available at select retailers
in the U.S. and Canada, or you can
purchase it online
. And it may be the last time you ever have to type in your credit card info.